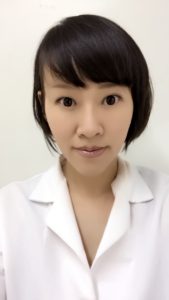 Dr. Mia
Dr. Mia Ting-I Li has a Master degree in Health Science of Oriental Medicine and Acupuncture from New York College Of Traditional Chinese Medicine. She is one of the candidate in doctorate of Chinese medicine and acupuncture in Pacific College Santiago recently.
Dr. Mia is a registered Doctor of Chinese medicine and acupuncture in South Africa, she is also a licensed Acupuncturist in New York and she has diplomats of Oriental Medicine from NCCAOM in USA. She also has the Qualification of  Doctor of Acupuncturist from WFAS WHO and  certifications on the completion of Tung,s Extraordinary acupuncture theory and practical training in Taiwan ROC.
Dr. Mia helped numberless patients with neurological issues and post stroke immobility from 2009-2012 with her mentors in Taiwan and South Africa. She worked in 2 teaching hospitals in Guangxi TCM university from year 2012 to 2013. She has good reputation in Chinese Orthopedic and Pain management of Acupuncture and TuiNa department. She also offers amazing TCM cosmetic treatments – facial and body shaping, weight loss and detoxification sessions to help patients to achieve health and appearance perfection.
Dr. Mia believes in Oriental Medicine as the most powerful and effective healing art. She was inspired by family members who dedicated in Taiwanese Cultural Medicine in their life since her very young age. She was very talented and outstanding through her learning and intern years. In her master program, she graduated with the honor of Summa Cum Laude in Acupuncture and Oriental Medicine.
Dr.Mia is very caring and patience in treating patients. She sees each of every patients as her own family who she really cares. She is very good in communicating and listening. She is knowledgeable and skilled in using holistic therapy to heal all sorts of external and internal, physical and psychological conditions.
Dr. Mia's Oriental Medicine specialize in applying drug free  physical therapy and using 100% natural herbal products and  supplements for pain relief on all sorts of new pain, chronic and stubborn pain in any locations. We treat  physical, psychological, gynecological, Dermatological conditions and Neurological, Cardiovascular, Metabolism related diseases with exordinary results.
Sample treatment video for "Post Stroke Rehabilitation"
Dr. Mia's Qualification
Doctoral Degree of Acupuncture and Chinese Medicine of Pacific college 美國太平洋大學中醫針灸博士
Master Degree of Oriental Medicine of New York College of Tradition Chinese Medicine 紐約中醫學院中醫碩士
Bachelor Degree of Oriental Medicine of New York College of Traditional Chinese Medicine 紐約中醫學院中醫學士
Registered Doctor of Acupuncture and Chinese Medicine in South Africa 南非註冊中醫針灸醫師
Licensed practitioner of Acupuncture in New York USA 美國紐約執照針灸師
Diplomate of Oriental Medicine of NCCAOM USA 全美中醫師特考證照
Doctor of Acupuncture of World Health Organization 世界衛生組織認證針灸醫師
Primary Care, Pain, Rehab, Detox, Withdrawals, Cosmetics and more.主治各種病症,痛症,復健,排毒,戒斷,美容減肥
Please feel free to contact Dr. Mia for any health matter
063-721-8906
072-665-5807
tcmdrmia@gmail.com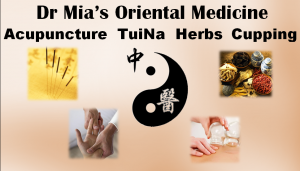 Oriental Medicine 
Oriental Medicine is an Antient Medicine for our modern world. The orthodox medical field mostly relied on using chemical compounds to treat diseases and somehow they may hurt more than help or cause other health problems. Oriental Medicine is DRUGS-FREE, SAFE, and EFFECTIVE which has been helped numerous people for more than 5000 years. Oriental Medicine Care relieves symptoms and signs of all health problems, and it remarkably heals the underlying roots of the diseases. Oriental Medicine Care is a dynamic and integrated health care system, it targets the reinforcement and balancing the energy flow of  the body to regain and boost the nature-self-healing ability to eliminate the diseases which already occurred and prevent the future illnesses develop in our body.
Oriental Medicine have experienced clinical success with a variety of health concerns. Today, Oriental Medicine is receiving wide acceptance as a respected, valid and effective form of health care. When most people think about acupuncture and the Oriental Medicine, they are familiar with its use for pain control. But acupuncture and the Oriental Medicine has a proven track record of treating a variety of endocrine, circulatory and systemic conditions. Oriental Medicine, Acupuncture and modern medicine when used together, have the potential to support, strengthen and nurture the body towards health and well-being.